Rose is the queen of flowers. It also has the reputation for being the most popular and the most widely cultivated flower in the world. Roses are not only used as decorations, but they also make spectacular floral gifts to offer your loved ones. And in order to make your gifting more meaningful, knowing about rose color meanings is necessary.
Roses are the epitome of perfection. Even the abominable thorns do little to subdue the popularity of roses. They truly mesmerize our body and soul with their enchanting beauty and intoxicating aroma. There are so many different color roses available today in the market, with each color rose meaning something different than the other. Knowing about rose flower color meanings is necessary in order to use them in the best possible way.
"True love is like little roses, sweet, fragrant, in small doses."

Ana Claudia Antunes.
Fun Fact: The world's most expensive rose, the Juliet Rose, was sold for £3 million in 2006 by famous rose breeder David Austin.
Despite being so popular, most people know so little about roses in general. And if you're a true lover of rose, you should spend time to discover more about it. And that's why, to make your job easier, we have compiled this article with facts and information from all around the world. From rose usages to rose colors and symbolisms, you'll find everything here!
Hope you enjoy the reading!
Origin of Rose Flowers
Express Your Feelings with Roses
Send rose bouquets or arrangements to rekindle your love for each other.
The earth has been blessed with Rose and its beauty for quite some time now. If fossil records are to be trusted, 35 million years to be exact. Rose flowers are available in more than 300 subspecies naturally, and over ten thousand cultivar (hybrid) species. Most of the natural rose species are native to Asia, although, some are native to Europe and the Americas. Cultivation of rose began about 5000 years ago in China and Persia, and it has been an intricate part of human life ever since.
Also Read: Independence Day 4th of July Flowers
Presently, Rose is the number 1 most popular and most cultivated flower in the world. It is the national flower of the USA, England, Bulgaria, Czech Republic, Ecuador, Iran, Iraq, Luxemburg, Maldives, and Slovakia, the highest for any flower. Rose is also the state flower of District of Columbia, New York, and Oklahoma in the USA. Georgia, North Dakota, and Iowa also have a different species of rose each as their state flowers.
"Life is like a rose, peeping through the hardships of life to bloom with color."

Stephanie
Fun Fact: The Black Rose is in fact a shade of a very dark red.
What do different color roses mean and symbolize?
It comes as no surprise that the most common meaning of rose is Love, and all other symbolisms associated with rose flower is somewhat related to love. Rose color meanings are significant for deciding on their purpose and usages.
The color meaning behind roses comes from different cultures and countries across the world, and sometimes they vary from one culture to another. Here in this article, we have included the rose flower color meanings that are accepted and widely used in the western world.
Meaning of different color roses:
Here's a rose color meaning list for helping you to quickly remember different color roses and their meanings:
| Rose Color | Meanings Of Rose Color |
| --- | --- |
| Red Rose | Love, Romance, Passion |
| White Rose | Peace, Spirituality, Innocence, Purity and Innocence |
| Yellow Rose | Friendship, Happiness, Joy |
| Pink Rose | Affection, Love, Admiration |
| Orange Rose | Hope, New Beginning |
| Ivory Roses | Perfection, Class, Attentiveness, Aympathy, and Spirituality |
| Peach Roses | Femininity, Delicateness, Modesty, and Purity |
| Lavender Rose | Enchantment, Adoration, and Love At First Sight |
| Green Rose | Fertility and Abundance |
| Blue Rose | Uniqueness, Rarity, Preciousness |
| Black Rose | Uniqueness, Rebirth |
| Purple Rose | Royalty, Majesty, Luxury, and Grandeur |
| Rainbow Rose | Joy, Fun, and Happiness |
| Dark Pink Rose | Gratitude, Appreciation, Happiness and Affection |
| Salmon Rose | Excitement and Desire |
| Burgundy Roses | Dark and Unconscious Beauty, Affection, Passion, and Loyalty |
| Cream Roses | Charm, Thoughtfulness, Grace, and Gratefulness |
| Coral Roses | Energy, Desire, and Fascination |
| Dark Purple Roses | Royalty, Glory, Majesty, and Enchantment |
| Mint Roses | Richness and Abundance |
| Multicolored Roses | It Truly Depends On The Eyes Of The Beholder |
| Red and Yellow Mixed Colors Roses | Happiness and Cheerfulness. |
| Red and White Mixed Colors Roses | Unity |
Also Read: How to Choose Flowers for Every Occasion
Designer's Choice
---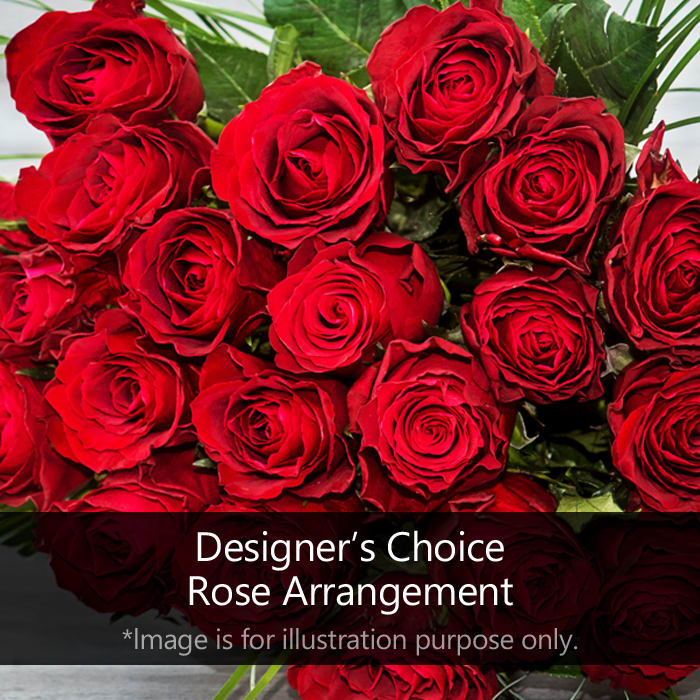 Anniversary Flowers
---
Exotic Flowers
---
Rose Flower Meaning in Different Cultures:
In Hinduism, rose holds a special sacred place where it is regularly used in 'pooja' ceremonies, i.e. the divine prayers. Garlands of Rose are worn during a wedding and are exchanged between the bride and groom as a symbolic gesture of becoming a part of life for one another. Rose petals are spread across the newlywed's bed to signify romance and a beautiful start of their new journey in life.
In Buddhism, rose is considered a sacred bloom and is often offered to the divine. Rose symbolizes joy and spirituality in Buddhism.
In Christianity, Rose is associated with Virgin Mary. The rosary and many other divine symbols are created around rose flowers.
In Islam, rose is associated with divinity and spirituality. Rose has a special place in sufi songs and literature, and there are many famous poems about Rose.
"Of all the flowers, me thinks a rose is best."

William Shakespeare
Fun Fact: The famous Rose aroma used in perfumes and other fragrant product is developed from rose oil. It takes more than two thousand flowers to produce 1 gm of rose oil.
Rose Meaning, Symbolism, and Festivities in Different Countries:
Spain celebrates St. George's Day every year on April 23 when lovers exchange red roses.
England adopted Rose as their National Flower in the fifteenth century. Rose is associated with Civil War in England where Red Rose represented the House of Lancaster and White Rose represented the House of York. Rose is also the symbol of UK Labor Party, the England National Rugby Union Team, and Rugby Football Union.
USA also has Rose as its national flower. The cities Portland, OR and Pasadena, CA are nicknamed the "city of Roses". Rose is a part of the symbol of DSA and it symbolizes socialism.
South Korea celebrates a "Coming-of-age-day" with roses when all 20-year-olds are showered with gifts and flowers, especially red roses.
Finland Celebrate a Friend's Day where roses are exchanged between friends.
In Hungary though, Rose is a symbol of unending love, and is used in funerals and memorial services.
"She who loves roses must be patient and not cry out when she is pierced by thorns."

Olga Broumas
Fun Fact: In Ecuador, 54% of the country's land is used for cultivating Rose. Rose is also the national flower of the country.
Rose flower colors and their meanings:
Every rose color has their own separate meaning, and symbolisms associated with them. Here's a quick guide for you. Want to know more? Click on each flower color to discover some more awesome information about them.
1. Red Rose
Nothing can represent passion and love the way a red rose does. The red roses appear heavenly. Plus, they spread an enchanting aroma. Red roses symbolize love, loyalty, faithfulness, and commitment. They represent strong relationships.
Use red roses as anniversary or Valentine's Day gifts or propose 'the one' with a bunch. Nothing creates a lasting impression like a bunch of red roses.
Red rose color meanings & symbolism
Red rose meanings mostly revolve around love. It symbolizes long-lasting bonds of relationships, intense and passionate love, and romance.
2. White Rose
White Rose is one of the most popular flowers. It is said to be the first rose color to have existed. White rose has at least 15 shades including snowball white, iceberg white, etc. White rose meanings include innocence, purity, and spirituality. They are also associated with the Virgin Mary.
White roses are very popular at weddings, both as wedding décor, or as floral ornaments including floral crowns, corsages and boutonnieres, or even for bridal bouquets. Other occasions where white roses are widely used are funerals and memorial services, romantic bouquets, corporate gifts, mother's day flower bouquet, and more.
Also Read: Flowers to Send for Mother's Day
White rose color meanings & symbolism
White roses signify many a thing. They stand for purity and innocence because they are the symbol of Mother Mary. The color white is also the symbol of peace, so white roses also mean peace and tranquility. Furthermore, white roses can mean spirituality and transcendence, and that's why they are used in funerals.
Learn More About White Rose Meaning
3. Yellow Rose
This bright and cheerful rose color was discovered in the 18th century in Southeast Asia. Yellow roses are one of the most enchanting ones among the different colors. Yellow rose meanings include warmth, friendship, and affection.
Yellow roses are the best to say 'Happy friendship Day' to your best friend. You can also wish someone happy birthday with yellow roses. Yellow roses make great additions to your 'Get well soon', 'Good Morning', or 'I miss you' bouquet. You can also use it to congratulate someone.
Also Read: Flowers to Send on Birthdays
Yellow rose color meanings & symbolism
Yellow rose meanings include friendship and admiration. It is the best choice for a friendship day bouquet. You can also use them to mean affection and devotion. Yellow roses represent happiness and joy too.
4. Pink Rose
Pink roses are one of the three original rose colors to exist in nature for the longest time. It is also one of the most popular and widely-used rose colors in the world. Pink roses symbolize affection, admiration, femininity, and fertility. It also depicts romantic love, and the beginning of a new love.
It is the perfect flower to give your crush. It is also a good choice for anniversaries, date nights, Valentine's Days, or the birthday of your significant other.
Pink rose color meanings & symbolism
Pink rose meanings include affection, attraction, and romance, although it doesn't represent the intense passion that red roses signify. As said earlier, it is the perfect flower for giving to your crush, or to a new love.
5. Orange Rose
An uncommon rose color, orange roses are the perfect blend of fiery red and warm yellow. One of the most unique rose colors, orange roses came into existence in the 20th century. Orange is a blend of red and yellow. Hence, the flower represents love, affection, optimism, and friendship.
Orange roses are versatile. Use them to show someone your love, or that you are interested in them. Include this in your 'Good Luck' or Congratulations bouquet. Other occasions where orange roses can be used are housewarming, wishing someone for their new baby, birthdays, anniversaries, or a friendship bouquet.
Orange rose color meanings & symbolism
The most significant orange rose meanings are hope, a new beginning, happiness, and liveliness. Orange roses symbolize positivity and optimism.
Learn More About Orange Roses Meaning
6. Ivory Roses
Ivory roses are simply spectacular. It is similar to cream roses in appearance, but slightly different in hues. Ivory roses are mostly cultivar species of rose which are created by rose breeders. Ivory rose meanings include positivity and peace. Ivory roses also have variations on them depending on the types and subspecies. Ivory roses look more golden when compared to cream roses.
Ivory roses can be used for decoration on many occasions including weddings, anniversary parties, corporate events, and so on. They are also great gifts for all such occasions, and more, such as, when you want to compliment someone, congratulate, or wish them well. Ivory roses can also be used as sympathy flowers for funerals and memorial services.
Ivory Rose Color Meanings & Symbolism
Ivory roses have significant symbolisms attached to them, and they represent a number of ideas and emotions. The most common Ivory rose meanings are perfection, class, attentiveness, sympathy, and spirituality. Ivory roses also represent superiority and grandeur.
7. Peach Roses
Peach is such a soft and feminine color in flowers. This color is not that common in flowers. Peach is actually a cultivar species in roses. It is a perennial rose plant that gives us round, peach colored flowers with the external petals slightly curled outside. Peach roses can be grown easily in a home garden or even in flower pots. They require plenty of sun, moderate water and temperature to thrive and they provide flowers all year round.
Peach roses can be used in several occasions such as in a love flower bouquet, a get well soon bouquet, in romantic décor such as for weddings or anniversaries, as birthday gifts, and more.
Peach rose meanings & symbolism
Peach roses mean many a different thing such as femininity, delicateness, modesty, and purity. Peach roses are sometimes also considered to be the replacements of pink or yellow roses. In such cases, peach roses mean love, affection, friendship, joy, life, and hope. Peach roses also represent gratitude and thankfulness.
8. Lavender Rose
Lavender is a rare color that comes to people's minds when talking about roses. However, it is not only rare but also one of the most visually appealing rose colors. This eye-catching hue of light purple is now an incredibly popular choice for romantic settings. Lavender rose meaning is generally attributed to innocent love as well as appreciation.
Lavender roses are a perfect option when you wish to sweetly confess your feelings towards someone. A fresh bouquet of these elegant roses is sure to leave a stunning first impression for your first dates. They are also a great choice for all flower lovers who occasionally wish to add a floral touch to their home for decoration purposes.
Lavender rose color meanings & symbolism
Lavender rose meaning is special in the true sense. It indicates enchantment, adoration, and love at first sight. It is a perfect option when you wish to convey romantic feelings towards someone. Being a shade of purple, lavender roses are also often associated with royalty, majesty, and splendor.
9. Green Rose
No one thinks of green flowers, especially roses, right? But as they say, nothing is impossible. Rose breeders and experts successfully brought green roses to existence in the 19th century. A bunch of green roses is not typically gifted. However, you can use them with different colors and flowers. Gift them on birthdays, or say congratulations.
Green rose color meanings & symbolism
When it comes to green rose meanings, they are a symbol of life itself. They also represent fertility and abundance.
10. Blue Rose
Blue roses are one of a kind. They look mysterious, enchanting, and extraordinary. A rare rose color, blue roses were developed in 2018. With blue roses, tell someone how unique they are. You can also gift them to your mom, teacher, or mentor to express their value in your life. Including a single blue rose in a bouquet of other colors will increase its aesthetic value by a lot.
Blue rose color meanings & symbolism
Blue roses symbolize secrecy, mystery, and uniqueness. They are associated with romanticism. They stand for everything rare and unattainable.
Learn More About Blue Rose Meaning
11. Black Rose
Black roses have made a special place among the rose colors. They are unique and a thing of the 21st century. Black roses symbolize uniqueness. They are associated with the Goth culture and were used as decorations for Halloween. Black roses are precious and rare. You can gift them on Halloween or send them to a Goth lover.
Black rose color meanings & symbolism
Black rose meanings are similar to the blue ones. They represent rarity and uniqueness. They also symbolize rebirth.
12. Purple Rose
A vibrant purple rose is certainly not something one sees on a day-to-day basis. Purple rose meaning is generally considered to be related to majesty and royalty. There are a variety of shades that you can find in purple like lavender, light purple, and dark purple, each one indicating distinct meanings.
A purple rose floral arrangement makes a perfect present for bosses, elected officials, new company presidents, or anniversaries of your friends and family members. They are excellent for any type of occasion when you just wish to convey your honor and respect towards someone.
Purple rose color meanings & symbolism
Purple rose meaning and symbolism are incredibly profound as compared to some other colors of roses. They are not only related to royalty, majesty, luxury, and grandeur but also wisdom, inner journeys, as well as mystic discoveries. Purple roses may also indicate a deeper passion and mature romance for some. Lighter hues of purple roses symbolize springtime.
13. Rainbow Rose
When you are in the search of a floral present that is gloriously beautiful and bright and indicates happiness, rainbow roses are the way to go. They feature a gorgeous and lively combination of hues that are certainly going to brighten up the day of the lucky receiver in an instant. Rainbow rose meaning varies depending on the choice of different colors. They feature a wonderful blend of vividly colored petals and make a cheerful present for both young as well as old.
Famous for bringing an instant smile to faces, rainbow roses are perfectly suitable for almost all special occasions. They make an incredible present for pals and family members. They are sure to enhance sparkle and delight on a variety of special occasions including birthdays, anniversaries, Mother's Day, baby showers, graduation, and many more!
Rainbow rose color meanings & symbolism
Rainbow rose meaning is highly associated with joy, fun, and happiness. They are also known as kaleidoscope roses or happy roses.
14. Dark Pink Rose
When talking about pink roses, there is one thing that is common in almost all the shades, that is their significance. Dark pink rose meaning, just like other shades of pink, is attributed to grace, gratitude, as well as pleasure. They are a more subtle option as compared to red. For instance, red is known to signify passion and love, whereas, dark pink rose, on the other hand, is more of an epitome of affection, admiration, and appreciation.
Dark pink roses are best suited for situations when you are looking for delightful ways to thank someone. At times when you wish to thank a friend for always being there for you, you can give them a beautiful bouquet of dark pink roses.
Dark Pink rose color meanings & symbolism
Dark pink rose meaning and symbolism are largely associated with gratitude and appreciation. It is a true token of happiness and affection. And being a shade of pink, these roses also innocently indicate romance.
15. Salmon Roses
Salmon rose hues are slightly darker when compared to peach and a bit pinker when compared to orange. This glorious and unique tint makes these roses one of the most vibrant as well as extraordinary flower options. Salmon rose meaning is generally associated with excitement and enthusiasm. They may vary from orange, pink, and even coral hues.
For all the flourishing relationships, Salmon roses seem to be a perfect choice. They are a spectacular option when gifted alone and also look amazing in centerpieces or bouquets with a bunch of lily grass, asters, or lavender flowers. If you have been wishing to express your feelings to someone, salmon roses are the way to go!
Salmon rose color meanings & symbolism
Known to represent excitement and desire, Salmon rose meanings are instilled in their spirit. For any sort of new beginnings in your life, they can be a great way to express your enthusiasm. Salmon roses are also the perfect pick to symbolize your admiration, affection, or gratitude to someone in an innocent and sweet way.
16. Burgundy Roses
Burgundy is essentially a darker or deeper hue of red along with a tint of brown. The color is generally associated with the shade of wine. While these roses do not possess the same popularity and liking as compared to the famous red roses, burgundy rose meaning is typically attributed to a deep passion. They are also known to exemplify unconscious charm and glamour.
Burgundy roses are certainly one of the most passionate flower options for lovers. They make great choices for anniversaries or a glorious date night. You can give these flowers to your better half to just let them know how passionate you are for them. They are likely to leave an even effective connotation as compared to red roses.
Burgundy rose color meanings & symbolism
The most popular Burgundy rose meanings are related to dark and unconscious beauty, affection, passion, and loyalty. They symbolize desire and deep emotion. They deliver a stronger message than that of the traditional red and are truly unique owing to their essence.
17. Cream Roses
Everyone is aware of the charm of elegant white roses that are known to signify innocence. However, cream rose meaning is mostly subtle. They possess an essence of thoughtfulness and charm that even the traditional white roses can't match up to. They are known for their eloquent aura that makes them one of the most special rose colors.
Cream roses are great for occasions when you are looking to express your feelings to someone or for thanking someone who did something special for you. You can also gift these roses when you are just looking for a way to make a friend, lover, or family member smile on a bright day. Cream roses also make one of the best choices when someone's sick.
Cream rose color meanings & symbolism
Cream rose meaning and its symbolism certainly set them apart from the rest. They are known to signify charm, thoughtfulness, grace, as well as gratefulness. They are the true representation of richness and perfection that are also subtle, soft, and innocent.
18. Coral Roses
Do you know the feeling of welcoming some fresh things or once-in-a-lifetime kind of opportunities, or the feeling of excitement or zeal of trying something new for the first time? Well, coral rose meaning is associated with precisely the same feeling. These flowers possess a bright sunny hue that truly exemplifies desire.
Coral flowers are great for occasions when your dear one is about to start on something fresh, take off for exotic endeavors, or receive some sort of promotion. You may also want to give these to someone relatively new to your life as a way to convey that you are thrilled to get to know them better. Whatever the occasion may be, sending and receiving coral flowers is always a delight.
Coral rose color meanings & symbolism
Coral rose meaning is attributed to energy, desire, as well as fascination. They symbolize spirit in all authentic ways and are a great way to convey your admiration towards someone. They tend to add a boost of energy to every relationship.
19. Dark Purple Roses
A rich, elegant dark purple rose is certainly not the one to be seen by everyone on a day-to-day basis. Dark Purple rose meaning includes glory at its best and they are also often referred to as "mystical roses". They are truly wonderful and are enough to create a statement when you send them as a gift.
As their fundamental connotation is elegance and dignity, dark purple roses make a perfect pick for any and every happy occasion. For all those people who usually find it hard to convey their feelings to their special someone that they love, a bunch of dark purple roses will just be enough and appropriate to do the job for you. Did you know that these roses were considered to be excellent presents for kings and queens?
Dark Purple rose color meanings & symbolism
Dark Purple rose meaning is associated with royalty, glory, majesty, as well as enchantment. It represents luxury and grandeur. As a gift, they are great for conveying your attraction and fascination towards someone.
21. Mint Roses
Mint green is a cheerful color and mint rose meaning is related to fertility, new beginnings, and upcoming endeavors. Sending someone mint roses is always a delightful idea.
Mint roses are great for occasions when your friends or family members are expecting a baby or blessed with one. You can also give them to a dear one who is entering a new phase of their life or making a significant shift such as changing jobs or shifting to a new place. They are perfect gifts when you just wish to tell someone that you care about them and wish nothing but the best for them.
Mint rose color meanings & symbolism
Mint rose meaning is diverse. Generally, these roses are the true epitome of richness as well as abundance. This may be interpreted in two different ways; richness in the sense of growth of a family, and richness in the sense of actual money, career, or/and any other valuables. The significance of the term richness may differ, however, the implication stays the same.
22. Multicolored Roses
Multicolored roses, also known as rainbow roses possess artificial hues as well. While they are not certainly the most natural flowers you can find, they are unique as well as a fun way of expressing your effort to someone by sending these flowers. It is one of those modern creations that not many people have taken advantage of yet. And for what it's worth, they must! Multicolored rose meaning, however, may vary based on the color choices.
Gifting multi-colored roses provide you with the special opportunity to convey multiple messages at the same time. For instance, you can choose yellow roses to represent sheer happiness or friendship; pink roses for true love; purple roses for the distinct significance of royalty; cream roses for subtlety; and so on.
Multicolored rose color meanings & symbolism
Multicolored rose meaning and symbolism largely depend on your color choices. Mostly, it signifies versatility for the inclusion of different colors in the arrangement. Their significance truly depends on the eyes of the beholder just like everyone has a distinct way of viewing and interpreting the rainbow.
23. Mixed Colors
Do you ever find yourself struggling with choosing from a few options available in front of you? That's a common dilemma most of us usually face on a day-to-day basis. So what do you do when you cannot decide on what color of roses you want to pick? Well, that's when you go for mixed roses! A little bit of mixing and matching in a flower arrangement is incredibly unique and for what it's worth, mixed color rose meaning truly stands out from the crowd.
For times when you wish to convey different emotions at the same time and in the same bouquet, mixed color flowers seem like your best bet. For instance, for showing your gratitude towards someone and telling them that you are looking forward to spending more time with them in the future, you can have an arrangement of dark pink roses with elegant lilac roses.
Mixed rose color meanings & symbolism
Mixed color rose meaning is mixed like their name. Their significance depends on the colors you pick. For example, a mix of red and white roses is special and romantic whereas a mix of yellow and purple represents friendship.
Red And Yellow Color Roses
You can combine different color roses. A combination of red and yellow roses conveys -happiness and cheerfulness. You can create the perfect red and yellow roses bouquet that expresses your exact feelings, now that you know the significance of each red and yellow color rose.
Red And White Color Roses
A mix of red and white roses can symbolize unity, which is popularly used in Wedding. You can create the perfect red and white roses bouquet that expresses your exact feelings, now that you know the significance of each red and white color rose.
"Love and a red rose can't be hid."

Thomas Holcroft
Fun Fact: Roses come in all colors in the color wheel.

Rose flower counts and their meanings:
Did you know that the number of roses in a bouquet denotes special meanings?
What's in a Number?
Traditionally, using roses to convey messages to your loved ones was all about the color and the variety. But over the years, roses have inspired people to develop a language of roses by adding a symbolic meaning to the number of roses you are gifting. The rose is considered the flower of love traditionally. Red roses are the best way to say" I love you" on Valentine's day. When you choose a certain number of roses for a special person, you bring a whole new depth to the gesture of gifting roses. The rose experts compile a list of meaning of number of roses you are gifting. This is our guide to the numbers and meanings of roses. Some of these meanings have been derived from visual significance, while some have caught on from popular stories and myths.
Here's a list to help you remember:
| Rose Flower Count | Significance of number of Roses |
| --- | --- |
| 1 Rose | Love at first sight |
| 2 Roses | Reciprocated love, mutual love |
| 3 Roses | I love you |
| 4 Roses | We are meant to be together for life |
| 5 Roses | You are special |
| 7 Roses | We complete each other |
| 10 Roses | You are perfect |
| 12 Roses | Be mine |
| 13 Roses | You are all I need |
| 15 Roses | Long-lasting love |
| 20 Roses | We are together forever |
| 21 Roses | I'm committed to you. |
| 24 Roses | You're always on my mind (twenty four hours of the day) |
| 50 Roses | Signify a love that has ripened well, and has never been regretted. |
| 99 Roses | I'll love you till the day I die. |
| 100 Roses | I'm totally devoted to you. Signify a happy union of two loving souls till death or till a hundred years. |
| 101 Roses | You're my one and only. |
| 108 Roses | Will you marry me? |
| 365 Roses | I love you every single day. Speak of a love that has remained constant and true throughout the year. |
| 999 Roses | My love will last till the end of time. |
| 1001 Roses | Speak of a faithful love that will live on forever. |
"Of all the flowers, me thinks a rose is best."

William Shakespeare
Fun Fact: The famous Rose aroma used in perfumes and other fragrant product is developed from rose oil. It takes more than two thousand flowers to produce 1 gm of rose oil.
Rose Color Meaning FAQs
1. Which color rose denotes friendship?
Friendship rose color meanings include feelings like affection, loyalty, and admiration. Yellow roses are the symbol of friendship.
2. Which color rose means remembrance?
White rose is the symbol of remembrance. White roses also mean sympathy, condolence, spirituality, and innocence.
3. Which color rose means sorry?
Although red and yellow roses are the most widely used rose flower colors for saying sorry, you can also go with offbeat choices like salmon, ivory, or green roses.
4. Which color rose means love forever?
Red roses mean everlasting love. Burgundy and deep red roses also denote similar meanings.
5. Which color rose means Thank You?
Pink and purple roses mean Thank you. Peach roses also mean similar things. You can create a bouquet with these colors mixed together to express your gratitude and thankfulness.
6. Which color rose means Eternal Love?
Although red roses are the symbol of love, it is white rose which means eternal love that transcends time.
7. Which color rose means hope?
Yellow, green, and white roses are the symbol of hope.
8. Which color rose means loyalty?
Purple roses mean loyalty, faithfulness, respect, and similar feelings.
9. Which color rose means I Love You?
Red and pink roses are the best option to express your love. Red roses denote intense and passionate love, and longstanding relationships, while pink roses denote affection, love, and the beginning of a romantic relationship.
10. Which color rose means jealousy?
Although yellow roses are the symbol of friendship, a mixture of yellow and orange roses also means jealousy in some context.
11. Which color roses mean 'Get Well Soon'?
Yellow, white, and orange roses are used to wish someone a speedy recovery and to say 'get well soon'.
Also Know – How Flowers Help Improve Our Well-being
12. What five things do roses symbolize?
Roses symbolize five things: Love, Hope, Joy, Admiration, and Beauty.
Also Read: