Every birth month has something special associated with it. Just like we have sun signs and birthstones, there are birth month flowers as well. Each month linked with a designated flower carries a special meaning and speaks a lot about your personality.
We help you find the perfect flower for your near and dear, here is the comprehensive month-by-month list with flowers associated with them.
Birthday Month Flowers And Their Meanings
| Birth Month | Birthday Flowers | Birth Flowers Meaning |
| --- | --- | --- |
| January | Carnation, Snowdrop | Love, Admiration, And Devotion |
| February | Violet, Primrose, Iris | Love, Faithfulness, Modesty, And Virtue |
| March | Daffodil, Jonquil | Prosperity, Rebirth, And Cheerfulness |
| April | Daisy, Sweet Pea | Purity, Blissfulness, Loyal Love, And Innocence |
| May | Lily Of The Valley Flower, Hawthorn | Humility, A Fulfilling Life, A Return Of Happiness, And Motherhood |
| June | Rose, Honeysuckle | Love, Devotion, And Beauty |
| July | Larkspur, Water Lily | Love, Happiness, Fickleness, Dignity And Grace |
| August | Gladiolus, Poppy | Strength Of Character, Moral Integrity, Sincerity, And Honesty |
| September | Aster, Morning Glory | Love, Wisdom, Faith, And Affection |
| October | Marigold, Cosmos | Determination, Optimism, And Prosperity |
| November | Chrysanthemum, Peony | Friendship, Happiness, And Honesty |
| December | Narcissus, Holly | Good Wishes, Wealth, Respectfulness, And Hope |
Also Read: Meaning of Flowers
FREE Flower Delivery for Birthdays
Wish a friend or loved one a happy birthday anywhere in the USA by sending them a bouquet of flowers.
What is Your Birth Month Flower?
January: Carnation & Snowdrop
January birth month flowers are Carnation & Snowdrop.
These are sturdy way blooms that thrive in cold winter months. There are just a handful of flowers that bloom and survive in extremely cold weather, and carnation flower is one of them. These flowers are distinguishable by their pretty ruffled petals and are available in various colors, including white, yellow, and red.
The Carnations symbolize love, admiration, and devotion. And according to this flower, individuals born in January tend to be passionate, loyal, and protective.
Learn More: January Birth Flowers
February: Violet, Primrose & Iris
February birth month flowers are Violet, Primrose & Iris.
Resembling the color of February birthstone, amethyst. February birth flower is also purple-colored. These are delicate flowers that bloom in the midst of winter. The unique heart-shaped petals of these flowers really make it a thoughtful February flower as it is the month of the love festival, Valentine's Day.
The Violets are the symbol of love, faithfulness, modesty, and virtue. Therefore, those born in February are wise, honest, and humble.
Learn more about February Birth Flowers
March: Daffodil & Jonquil
March birth month flowers are Daffodil & Jonquil.
These flowers bloom at the onset of spring. That is why they are considered to be a symbol of hope. They represent the arrival of better times ahead.
Thus, Daffodils & Jonquil mean prosperity, rebirth, and cheerfulness. As such, those with March birthdays are cheerful, affectionate, and always happy.
Learn More About March Birth Flower
April: Daisy & Sweet Pea
April birth month flowers are Daisy & Sweet Pea.
Just because these flowers easily pop up in your field, you cannot afford to ignore them. They make a very meaningful April birthday gift. Representing purity, blissfulness, loyal love, and innocence, these flowers are great to be added to your floral arrangements.
Further, considering the innate qualities these flowers carry, people born in April are kind, sweet, loyal, and playful.
Learn more about April Birth Flowers
Anniversary Flowers
---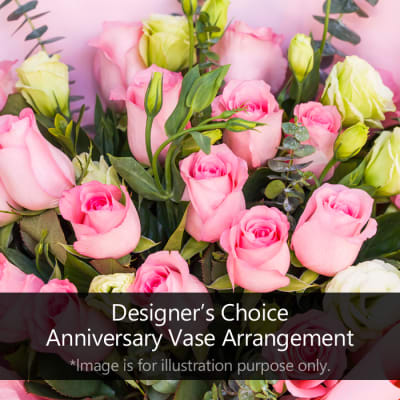 Just Because Flowers
---
Tropical & Exotic Flowers
---
May: Lily Of The Valley Flower & Hawthorn
May birth month flowers are Lily Of The Valley Flower & Hawthorn.
The Lily of the Valley features a cluster of small blooms on a single stem. This is a white-colored flower that holds a great place in mythology and traditions. Because of its wonderful smell and unique bell-like hanging shape, royal family brides have greatly cherished this flower as the birth flower for may.
Generally, the Lily Of The Valley Flower & Hawthorn flower symbolizes humility, a fulfilling life, a return of happiness, and motherhood. Therefore, these flower is the perfect choice to adore and appreciate your loved ones born in May with so much positivity.
Learn more about May Birth Flowers
June: Rose & Honeysuckle
June birth month flowers are Rose & Honeysuckle.
For the lucky ones born in June, the king of flowers, roses are considered the official flowers. Though they are more specifically associated with Valentine's Day month, the Birthday Roses charm the individuals born in June.
Typically, these flowers symbolize endless love, devotion, and beauty; their meaning can change depending on their color.
Learn more about June Birth Flowers
July: Larkspur & Water Lily
July birth month flowers are Larkspur & Water Lily.
Larkspur flower blooms in distinct hues, and each hue conveys a different meaning. The vibrant hues of this flower include purple, indigo, white, and pink.
Purple symbolizes first love, white symbolizes happiness, Pink symbolizes fickleness, and Blue symbolizes dignity and grace.
Learn more about July Birth Flowers
August: Gladiolus & Poppy
August birth month flowers are Gladiolus & Poppy.
Featuring a sleek, skinny appearance, the Gladiolus flower is sometimes also known as a sword lily. Considering their showy and unique structure, these flowers are a statement in themselves.
Whether you choose it affixed in a small bouquet for Birthday Flowers Delivery or as a whole study basket full of Gladiolus, this flower is just perfect to delight August-born babies.
Additionally, the gladiolus is available in an array of vibrant colors, including pink, red, purple, orange, yellow, and white. These flowers are symbolic of the strength of character, moral integrity, sincerity, and honesty. 
Learn more about August Birth Flowers
September: Aster & Morning Glory
September birth month flowers are Aster & Morning Glory.
The Aster flower has been given this name because of its star-like shape. This flower thrives round the year, but during September, they tend to bloom vibrantly. Also referred to as frost flowers, Asters are associated with love, wisdom, faith, and affection. These flowers bloom in powerful colors such as Pink, Red, White, Lilac, and Mauve.
Learn More About September Birth Flowers
October: Marigold & Cosmos
October birth month flowers are Marigold & Cosmos.
Exuding bright golden, autumnal hue, it's no surprise Marigold is the perfect fit flower for October birthdays. The flower instantly grabs attention with its distinctive appeal. Furthermore, these flowers have been long used for treating skin conditions.
Being radiant and brightly colorful, the marigold is symbolic of determination, optimism, and prosperity. Besides, it is also associated with creativity. Thus, October-born people are likely to be hard-working, passionate, and creative.
Learn more about October Birth Flowers
November: Chrysanthemum & Peony
November birth month flowers are Chrysanthemum & Peony.
These flowers are one of the most popular as they bloom throughout the year, all around the world.
The Chrysanthemums represent friendship, happiness, and honesty. Plus, they are also considered to be a sign of good luck when displayed at home.
Learn More: November Birth Flower
December: Narcissus & Holly
December birth month flowers are Narcissus & Holly.
Featuring a unique trumpet-like structure at the center, the flower boasts a very attractive appearance.
The Narcissus is representative of good wishes, wealth, respectfulness, and hope. Thus, whether gifted in a subtle bouquet or any high-end assortment, this wonderful flower will bring luck to December-born babies.
Learn More: December Birth Flower
What Are Birthday Color Flowers?
With so many types of birthday flower colors available in the market, you are sure to be overwhelmed by the options. There are nearly endless varieties. But ensure to opt for a birth month flower bouquet that resonates with the personality of the receiver.
However, if you are unsure what color to pick, you can opt for an enchanting arrangement with bright-colored flowers. Also, a single-colored floral arrangement is appreciated. Of course, different colors will express different views, so it is always good to consider sought-after options rather than to end up sending the wrong message.
Are Flowers A Good Birthday Present?
Flowers serve as a great substitution for words. They can convey your message with a soothing aroma and beauty. Each birthday flower carries a specific meaning, so what else can be a better way to highlight the personality of your loved one than gifting them the birth flowers. If you are interested in sending birthday flowers online to your friend or family member, Snapblooms can fulfill your wish.
Also Read: Top 4 Flowers to Send on Birthdays