A wedding anniversary is a time to rekindle romance, express your love, and give thanks for your marriage. Are you stumped as to what wedding anniversary gift to get your spouse for their special day?
Flowers, it is believed, not only bring back memories, but also make it easier for people to express themselves. The mind-blogging aroma of fresh blooms arranged in distinct patterns radiating vibrant colours is enough to take your celebrations to the next level.
Same Day Flower
Designer's Choice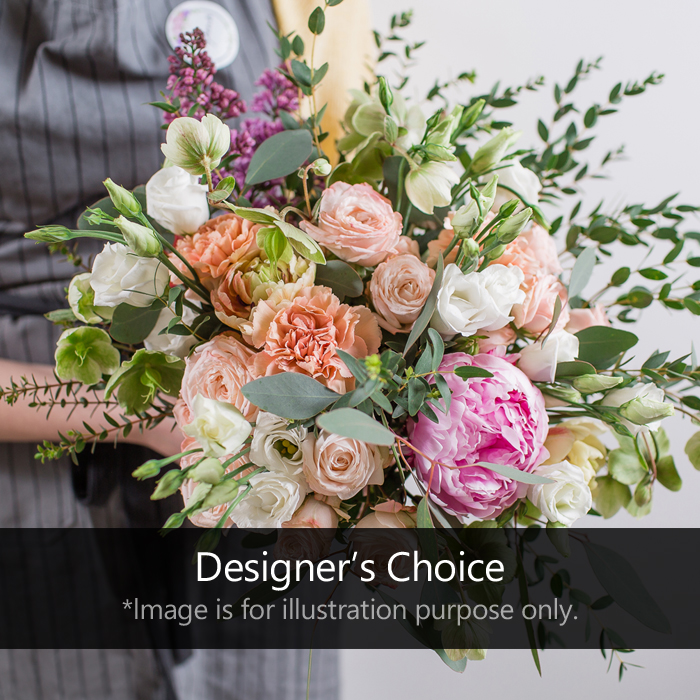 Anniversary Flowers
With so many options out there, finding the best Wedding Anniversary flower by year of marriage can be a bit tricky. But fortunately, you have some beautiful flowers associated with each milestone celebration of your wedding anniversary.
1st Wedding Anniversary Flowers – Carnations
Carnations have long been associated with young, passionate love due to their youthful and vibrant full bloom. One of the most exciting times in both of your lives is your first anniversary as a married couple! With a bouquet of carnations, you can express your youthful and new love.
2nd Wedding Anniversary Flowers – Cosmos
Cosmos' intense beauty perfectly captures a young couple's love. These flowers are known for symbolising harmony and order, as well as peace, tranquilly, innocence, and love, due to their bright colour and sweet scent. Choose red cosmos, which strongly symbolise love and passion, because red is the traditional colour for the second anniversary.
3rd Wedding Anniversary Flowers – Sunflower
The sunflower is strong, colourful, and passionate, capturing all of the characteristics of three years of marriage. The wedding anniversary, like its sturdy stem, is in its third year and has begun to lay a solid foundation. Sunflowers are a symbol of love, loyalty, and longevity. Sunflowers derive their meaning from their namesake, the sun, which represents both the challenges they have already overcome and the happy, bright times that lie ahead.
Send Love With Sunflowers!
SnapBlooms collection are a variety of sunflower bouquets, perfect for a special gift for Wedding Anniversary.
4th Wedding Anniversary Flowers – Geraniums
Enjoy a bouquet of Geraniums as you and your spouse enter your fourth year of marriage. Geraniums are thought to represent the spiritual, physical, and mental union of two people. Choose pink or red geraniums to emphasise the message of love you want to send to your significant other. Geraniums, both red and pink, are symbols of romance, love, and passion, and are a lovely way to commemorate your time together.
5th Wedding Anniversary Flowers – Daisies
Send daisies if you want to surprise your spouse or send flowers to a couple on their anniversary. Daisies are the traditional flower for the fifth wedding anniversary because they symbolise eternal love and fidelity. The most common colour for daisies is white, which represents innocence. Choose blue or pink daisies if you want to stick to the traditional colours of the fifth year anniversary.
6th Wedding Anniversary Flowers – Calla Lily
The calla lily is the traditional flower for the 6th wedding anniversary. It is long, slender, and lovely. These lovely white flowers, which represent love, are frequently found in bridal bouquets. So, after six years of marriage, what better way to express your love for your partner than with some unique calla lilies? Representing the growth and development of your love for each other.
7th Wedding Anniversary Flowers – Freesia
Freesias are a fragrant flower that comes in a variety of colours, making them ideal for the 7th wedding anniversary. While the colours of freesias have different meanings, they all represent trust, thoughtfulness, friendship, and sweetness, which is exactly what you want in a happy marriage!
8th Wedding Anniversary Flowers – Clematis
You and your spouse are most likely as thick as thieves by the 8th anniversary! You're each other's confidants and have an incredibly strong bond that only gets stronger with time. As a result, the lovely pink and purple clematis flower, which represents the joining of two minds, is the traditional flower.
9th Wedding Anniversary Flowers – Poppy
The traditional flower for the 9th wedding anniversary is the classic poppy flower, which everyone knows and loves. The ninth year of marriage is a fantastic time to reflect on your time together and hope for many more happy years, as poppies symbolise remembrance, hope, and imagination with their beautifully vibrant red petals.
10th Wedding Anniversary Flowers – Daffodils
The tenth wedding anniversary is a significant milestone that should be commemorated in style! Daffodils are a special flower that symbolises the first ten years of marriage. Daffodils are strong and resilient, and look absolutely incredible when arranged in a bouquet, with their bright yellow colour that is as radiant as your love for each other.
Read: Anniversary Gift Ideas For Wife
11th Wedding Anniversary Flowers – Morning Glory
Morning glory flowers, which represent love and affection, are traditionally associated with the 11th anniversary. We couldn't think of a better, or more meaningful, flower to help you and your spouse celebrate the next decade of your marriage and renew your commitment together than a bell-shaped head and gorgeous colours.
12th Wedding Anniversary Flowers – Peony
The peony flower, everyone's favourite big, ruffled bloom, is also the symbol for the 12th wedding anniversary. Peonies represent a time in your marriage when you can appreciate the finer things in life. They are graceful, sophisticated, and elegant. Peony meanings include romance, prosperity, good fortune, and a happy marriage, so they're ideal for giving to a special someone!
13th Wedding Anniversary Flowers – Chrysanthemum
Chrysanthemum flowers represent devoted love, happiness, and longevity, making them ideal for your 13th wedding anniversary gift! These beautiful flowers are adored by people from all walks of life. Even just looking at a large bouquet of chrysanthemums is said to bring good fortune.
14th Wedding Anniversary Flowers – Dahlias
Dahlias are fascinating to look at, aren't they? On your 14th wedding anniversary, a large bouquet of these beauties will undoubtedly delight your spouse! These flowers will convey that there are still plenty of exciting things to look forward to in your marriage, with an explosion of colour unlike any other.
15th Wedding Anniversary Flowers – Rose
Your 15th wedding anniversary is a significant milestone that deserves to be celebrated lavishly. The classic red rose is the flower that best represents love and passion. Roses are the perfect way to show your intense love and affection for each other no matter what after fifteen years of marriage, through all the good, the bad, and the downright ugly.
Stunning Bouquets
Let floral gifts expresses your feeling on your 15th Wedding Anniversary
Learn More about Rose Color Meaning
20th Wedding Anniversary Flowers – Asters
Now you have completed two decades of your marriage. That's really a big milestone and needs to be celebrated with joyful Asters. Symbolizing the beauty, pride, dedication that your relationship has been beholding over the years, Asters are just ideal for celebrating the joy of achievements you both have made in the last 20 years.
25th Wedding Anniversary Flowers – Iris
Traditionally, Iris is representative of love, hope, faith, and courage. Standing vibrant, tall, and firm, this flower exudes the strength of your bond. No matter how many ups and downs come, you commit to standing firm by each other's side. These tall, vibrant flowers are the ideal symbol for your strong, vibrant relationship.
30th Wedding Anniversary Flowers – Lilies
The flower of choice for the 30th wedding anniversary is sweetly scented lilies. And what a stunning flower to commemorate the occasion with! Lilies, which represent pride and devotion as well as new life and rebirth, represent all of the changes you've experienced together, from house moves to children, and how your love has remained strong. To mark the grand celebration of your accomplishments over 30 years, nothing fits the criteria like Birds of Paradise.
35th Wedding Anniversary Flowers – Coral Rose
35th anniversary is a testament to your meaningful wedding life history. The most appropriate flower gift for a 35th wedding anniversary is the Coral Rose to make this milestone memorable. Flowers in vibrant hues such as red and orange are also a perfect choices. In addition, a bouquet with a combination of red roses, carnations, chrysanthemums, and gerbera daisies would beautifully fit the moment and add sparkle to coming years.
40th Wedding Anniversary Flowers – Nasturtium
After a journey of 40 successful years, your sense of loyalty and dedication towards each other is visible. To commemorate this accomplishment of 40 long years, you need flowers that represent victory and strength. Well, nasturtium fits this context perfectly. Being bright and showy, these flowers loudly speak about devotion between partners.
45th Wedding Anniversary Flowers – Blue Iris
Blue Iris is a traditional flower for the 45th anniversary. But, you can't simply go wrong with a bouquet of these mesmerizing Blue Sapphire flowers. Representing purity and clarity, the Blue Iris flowers carry the message of hope to inspire the coming years of your life.
50th Wedding Anniversary Flowers – Yellow Roses and Violets
Congrats! It's your golden wedding anniversary, and to appreciate the eternal bond that you have shared over 50 years, you need not one but two flowers. To honour your togetherness, you need bright yellow roses and violets. These flowers together represent everlasting love, faith, and mutual respect.
Now that you know everything about wedding anniversary flowers, do not forget to compliment your celebrations with these exotic blooms. Take a look at all of the lovely anniversary flower bouquets that we offer!