Apart from love, understanding and open communication are some critical factors for a relationship to last longer. Years pass by, and the road still seems peaceful and worth taking when you are with the right partner. There are only some selective days when you can show your partner how wonderful they are and how much you love them. One of those occasions is your wedding anniversary.
It's a day made for both of you to express your feelings. Flowers are always the ideal anniversary gift for couples. If you are one of those couples who cannot stop looking at each other with eyes full of love, wedding anniversary flowers will make the best gift.
What is the Best Anniversary Gift for Wife?
Here are some anniversary gift ideas for your wife in which you can make her happier like never before.
Anniversary Flower
---
Romantic Love Flowers
---
Designer's Choice Flower
---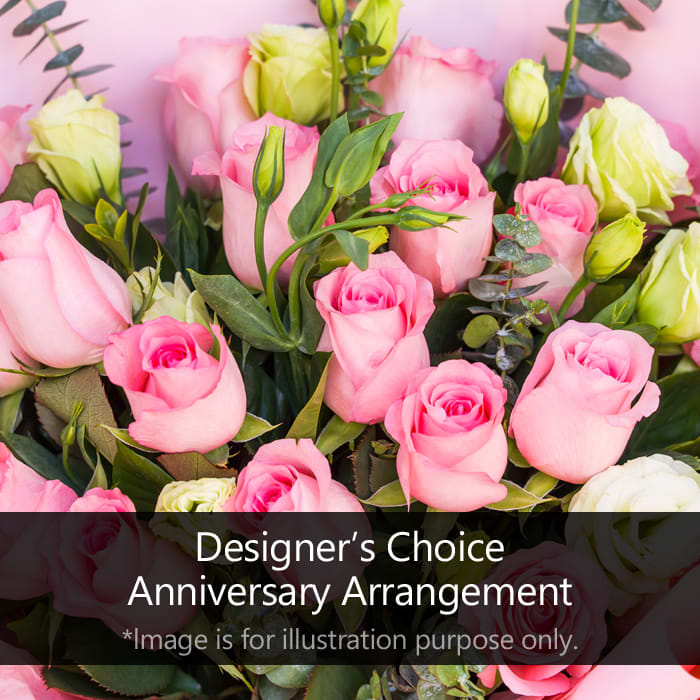 1. Offering her favorite bouquet
Your wife has been with you in every cheer and sorrow. Show her that she is beautiful and would always be important to you. Wedding anniversary bouquets are one of the best ways to tell her the same. There is a myriad to choose from like carnations, roses, tulips, and lilies.
Giving flowers is the perfect anniversary gift for wife. The language of flowers speaks different senses. Anniversary is when you tell your partner that they are appreciated. So, give your wife a bouquet of flowers that displays the best emotions that you feel for her. Let your wife know that she needs to be cared for.
Also Read: Flowers for The Wedding Anniversary
2. Plan a dinner date with flower decor
If your wife loves to be amidst nature with flowers, plants, and fresh air, create the same aura for her. Decorate your living room with some red rose petals spread around everywhere), fairy lights, and candles. You can even build a cute fort or a flower canopy in your backyard for her. Get the best and attractive flowers and imitate a grand meadow.
If she is a movie fanatic, select a movie that you can love and connect to (romcoms are the best!). This is your chance to treat her. Bring in her favorite cuisine takeaway or delivery order with some wine or champagne to celebrate. You can present her with some DIY or store-bought flower arrangements as well. Moreover, you can cook her favorite meal, which will make her happier.
Also Read: Types of Flowers for Wedding
3. Customized Snapblooms flower bouquet
It is not necessary to buy a bouquet of a single flower. You can consult a florist and check out customized ideas for flower arrangements. Mix and match an assortment of gorgeous flowers and prepare something that will leave your wife awestruck.
You can include her favorite choices in flowers with some pretty succulents and a stunning wrapping design. Green leaves and twigs in between the flowers make the arrangement even more attractive. Make sure you are pairing the flowers according to their colors, petal designs, and fragrance. Never overdo it. Keep it simple and let all the included flowers compliment each other.
It has been observed that white-colored flowers with romantic colors like red or pink go together really well. If you want to create a luxury bouquet, choose flowers with colors such as blue, purple, magenta, etc. to give a character to the flower bouquet. Snapblooms provides flower arrangements for anniversary occasions such as roses bunches, orchids, and floral bouquet.
4. Make a memory box of the flowers you've exchanged
If you can show how far you both have come amongst all struggles and happiness, it will let her know that you appreciate whatever she has done for you. Create a box, either with wood or glass, to include the flowers that you've exchanged previously on dates. Get those flowers from Snapblooms to recreate your memories by placing them inside the box. You can then narrate the story associated with the same blooms. Furthermore, you can include photographs, souvenirs, and saved love letters.
Try decorating the memory box with some fresh ornamental flowers. Your wife would be amazed by how you've kept all of your memories safe in your heart. This surprise gift for your wife on anniversary lets her know you cherish every moment.
Also Read: Most Popular Flower Types
5. Fun scavenger hunt with little blooming surprises
Scavenger hunts are just so fun and exciting that they bring out your competitive you. Both of you can laugh and enjoy your time. This option is the most amusing one. All you need is a unique twist to make it a special anniversary gift idea for your wife. Make a rose petal trail, which is just so romantic- you have to try it. Also, keep a surprise bouquet for her upon finishing the quest. Lastly, make clues with cute notes and riddles that will get her on with the challenge.
Also Read: Best Anniversary Flowers For Your Parents
You can always count on SnapBlooms for beautiful flowers no matter what the occasion is.
Every gift should be thoughtful and suit your wife's interests. Anniversary is all about celebrating your love, and this is your chance to express how great you feel about you both being together. Let the flowers portray that she is special. You can even get her multiple bouquets; different flowers for every emotion. She will be swayed after looking at how you are displaying your love for her on your anniversary. Use these five unique anniversary gifts ideas to get her into awe and bring happy tears to her eyes. All because she matters.
Also Read: 8 Best Anniversary Gift Ideas For Husband