Rest In Peace: How to Choose the Best Funeral Flowers Online
When someone you know has passed away, giving the gift of flowers is one of the best ways to honor their memory. With flowers, you give a stunning medley of colors and textures, as well as an aromatic fragrance, that will offer a sense of peace. And choosing a professional funeral flowers delivery service ensures that you'll give a memorable gift that will create beauty in the midst of a difficult time.
Before ordering flowers, you'll want to understand the meaning of individual types of flowers — and how to arrange them artfully. Making an informed choice will add more meaning to this gift. Keep reading to learn more about how you can choose the best funeral flowers online.
---
Consider Your Connection to the Deceased When Choosing Funeral Flowers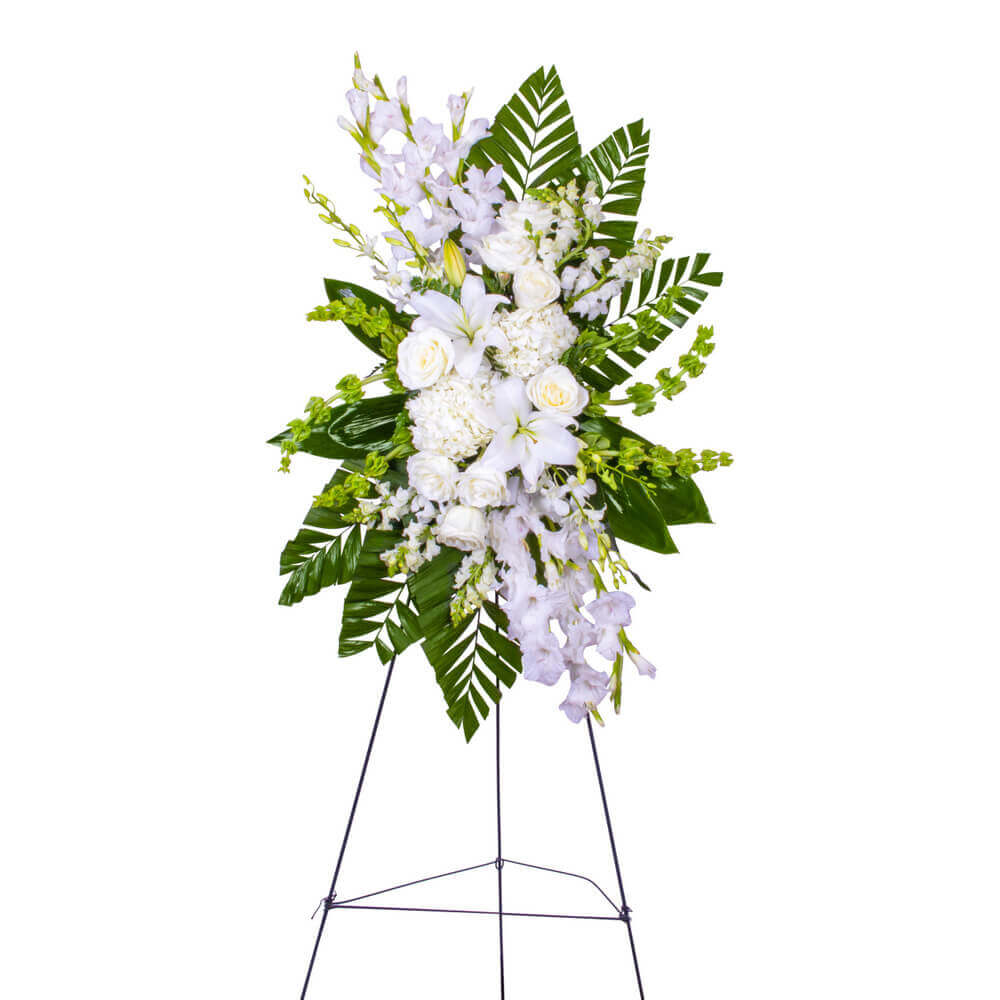 When you're determining what type of flower arrangement to send, start by considering your relationship with the deceased. Understanding your connection to the person can impact how you approach purchasing a gift. You may wish to send a larger flower arrangement, or you may find a modest bouquet to be more appropriate.
Are you a close family member of the departed? Or are you a distant relative, work colleague, or acquaintance? Before you invest in flowers, you'll want to evaluate the level of closeness you feel.
If you're a close family member, you should plan on investing in larger and more intricate flower arrangements for the funeral or graveside service. These arrangements can include beautiful sprays that are featured at the funeral service, as well as larger wreaths or garlands that can be displayed on easels near the casket. It is fine for extended family members to contribute funeral spray flowers, as well, if they feel a sense of closeness to the deceased person.
For more distant family members, friends, and colleagues of the deceased, it is appropriate to send smaller arrangements. This may include a single potted plant or other smaller arrangement that is sent to the family's home, or to the viewing. You don't need to feel obligated to spend an enormous amount on flowers — and you can find a lovely and memorable arrangement for a reasonable price when you look for funeral flowers online.
It's not always the case that larger flower arrangements cost more, either. Smaller arrangements consisting of rare flowers or ones that are not in season may cost more than larger arrangements of in-season flowers. Spend some time looking at options that fall within your budget and demonstrate the level of caring you want to offer.
It can be helpful to talk with the family first, but this step may feel disruptive given the circumstances. Trust that the gesture of sending funeral spray flowers or a smaller flower arrangement to the family is a sincere extension of love and sympathy. The family will appreciate any level of consideration in their time of need.
---
Know the Historical Meaning and Symbolism of Different Types of Flowers
When it comes to choosing sympathy flowers, it's important to understand the meaning behind the flowers first. Traditionally, certain flowers have been popular funeral choices and may communicate more meaning than a random assortment of flowers. When you're pulling together an arrangement, consider these flowers as strong options to include.
---
Tulips Offer Hope
You may prefer to choose flowers that offer a sense of hopefulness or optimism. If sending such a message is your priority, look to tulips as an answer. Because tulips are among the earliest flowers to reveal themselves in the spring, they suggest new beginnings.
These clean, curvaceous flowers come in a variety of bright colors. Go with red and pink to communicate a sense of love, or opt for white to show respect. Their sophisticated shape will be a beautiful way to honor the deceased — and look lovely alone or with other flowers.
---
Show Sympathy with Orchids
To show love and sympathy over the death of a loved one, adding orchids to your arrangement is an excellent choice. White and purple orchids suggest a sense of purity and honor that can give dignity to any arrangement.
To encourage a sense of hope that your loved ones or friends may emerge from this dark moment, go with yellow. Their brightness and rounded petals will add a needed burst of vibrancy during a sad moment in time. And their presence in an arrangement suggests the promise of renewal.
---
Roses Always are a Good Option
While we might associate roses with romantic love, they are a reliable choice when you're looking for sympathy flowers. Roses can extend an offering of deep love and reverence for the departed, and compassion toward the grieving family members. And for the ultimate expression of grief, black roses may be the right choice.
White roses, and more generally white flowers, exude a sense of purity that truly can honor the deceased person. Pink roses show appreciation and love, while a darker red hue demonstrates deep sorrow and grief. Consider your connection to the deceased as you determine which color is most meaningful for your arrangement.
---
Daisies Symbolize Purity and Innocence
Daisies are delicate flowers that represent innocence. Their soft white petals and intense golden centers create a fresh and lovely look for a flower arrangement. They also symbolize love and togetherness, making them an excellent choice for a funeral flower spray or wreath.
---
Lilies Suggest Rebirth
To express sympathy and honor the purity of the departed individual, lilies are another strong choice as a funeral flower. White lilies have a clean and elegant shape that stands out against surrounding greenery. They look fresh and formal, making them a perfect choice for a funeral or sympathy gift.
Choose from fragrance-free lilies, which won't bother allergy sufferers, or go with more aromatic versions of the flower. Aromatic lilies can smell sweet and nostalgic. If you're looking for a strong funeral flower, lilies remain one of the most popular choices for funeral arrangements because of their beauty and sense of hopefulness.
---
Hydrangeas Exude Sympathy
Another popular funeral flower is the hydrangea. These versatile flowers can convey a multitude of emotions ranging from love to grief. When it comes to choosing the right color of hydrangea, two varieties stand out above the rest.
White hydrangeas signify purity and represent a dignified presence in a bouquet. For a more intense show of love, choose pink hydrangeas. The delicate yet sculptural blossoms on any of these flowers will look lovely alone or when paired with other flowers.
---
Carnations are a Classic Choice
Carnations offer a thoughtful way to remember the deceased. Their resilience and beauty make them a good choice for wreaths or other sprays at funerals. And the color of carnation can shift their message toward one of deep love or honor.
Pink carnations are a popular choice at Christian funerals, as the story holds that carnations sprouted from the place where Mary's tears fell. Red carnations exude a deep sense of love, while white carnations embody a sense of purity and innocence. The wonderful fragrance and intensity of colors help these flowers resonate with those who are grieving.
---
Get Guidance with Your Arrangement
Ultimately, you want to be intentional about the flowers you choose. Look into mixing different types of flowers to strengthen the message that you extend — but be careful with your choices. Not all flowers will communicate the reverent tone that a funeral requires.
The gesture of sending flowers is one of the best ways you can express your condolences during a difficult time. But if you're concerned about making the wrong choices or need guidance, an experienced florist can help you make the right determination.
---
Understand the Difference Between Sympathy and Funeral Flowers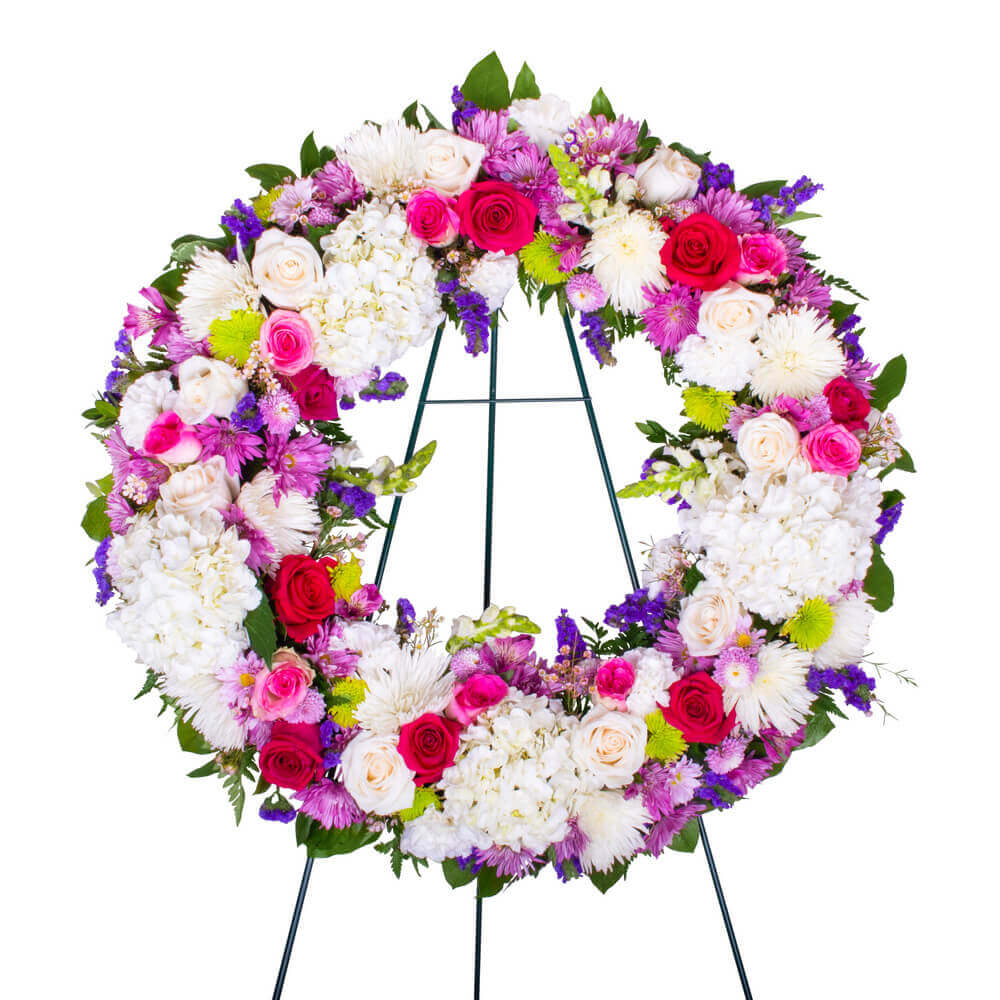 There is a difference between flowers that are sent as a show of sympathy and those that go to the funeral. Not all flowers or arrangements serve the same purpose. So you'll need to know what type fits with your intentions.
As the name implies, funeral flowers should be present at the funeral service honoring the deceased. Since the funeral home will help arrange all flower deliveries in a pleasing and respectful way for the service, you'll want to send these flowers to the funeral home right away. The time between the death of a loved one and a funeral may be small, so if you're hoping to send funeral flowers, you'll need to act quickly.
At the funeral, you may notice different groupings of flowers that are in, near, or on top of the casket. These are called funeral spray flowers. Funeral spray flowers also include flowers that have been set on an easel, and they are meant to be used only during funerals.
Casket funeral flowers sit directly on top of the casket. This particular spray of flowers that sits over the casket should be provided by the immediate family, or those closest to the deceased. In most instances, the other funeral sprays will sit near the casket.
Since some funeral sprays are large and elaborate, it is most appropriate for the immediate family to purchase these. These flower arrangements may cost a few hundred dollars due to the rarity of flowers or intricacy of arrangement. If you feel close to the family or want to contribute to the cost, you may do so.
Sympathy flowers, by contrast, should be sent to the home of the grieving family members. If you're not as close to the deceased or find out about the death at a later time, sympathy flowers are a good choice. You can find a tasteful bouquet for under $50 that would be a wonderful gesture.
---
Plan Where and When to Send the Funeral Flowers Delivery
When you're selecting the right flowers, you need to know where and when to send the flowers to the grieving family. Following the rules of funeral etiquette ensures that you're showing your respects in the best way possible.
Should you send flowers to the funeral or the family? This question can lead to a lot of anxiety — and the answer may depend on your connection to the family of the deceased.
If you are a member of the immediate family or a very close friend, you may send flowers directly to the funeral. Sending sympathy flowers online will be the fastest way to get a professional and thoughtful bouquet to the right place at the right time. Especially if you are sending funeral spray flowers or a larger arrangement, it may be wise to communicate with the funeral home first. Be aware that some funeral homes do not permit flowers in vases because they are easy to knock over. When you're sending flowers to the funeral, be sure to choose a basket or other bouquet with a sturdy presentation.
If you're hoping to send flowers to a grieving friend or family member at their home, you'll want to choose a smaller arrangement. A bouquet featuring a single type of flower can provide a pop of color and life that will be welcome. You can find an attractive option that is well under $100 if you have budgetary restrictions or don't consider yourself as close to the deceased.
As far as the timing is concerned, you may wish to send the sympathy flowers as soon as possible. It also is fine to wait. Even after a few weeks, the family will be grieving the loss of their loved one and appreciate the show of support.
---
Find the Right Arrangement to Suit the Purpose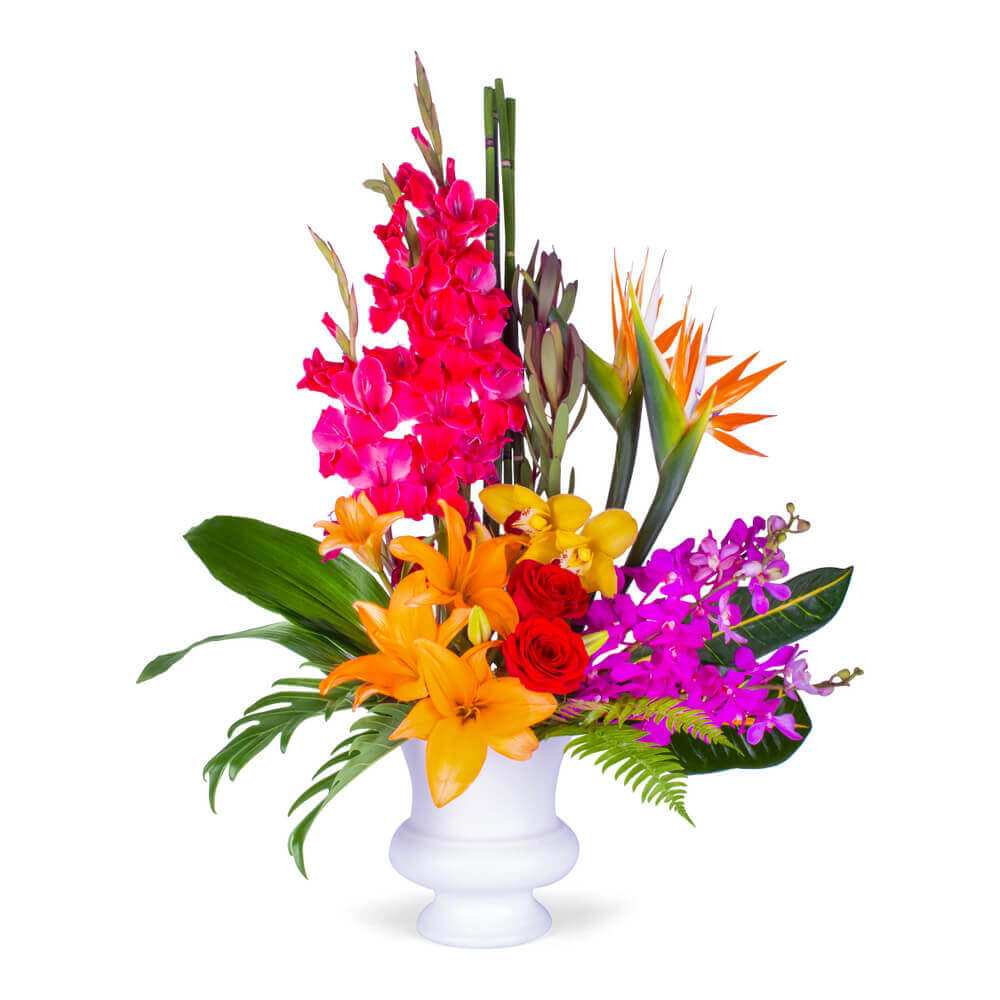 Though you might be tempted to let personal preferences and colors guide how you arrange flowers, there are some general rules to keep in mind. When it comes to funeral flowers, not all flowers retain their original meaning when you combine different types. But more often than not, you can strengthen your expression of support by including a diverse assortment of flowers.
Pay attention to the tone of the flower arrangement. For instance, the type of flower arrangement you would choose for an anniversary differs from what you would choose for a funeral. While mixing red and yellow roses might make for a bold bouquet, the meaning of the arrangement may be more positive and congratulatory than what you intend.
It's critical to spend time learning the symbolic meaning of flowers so you can arrive at the right selection. A blend of white and pink roses, as another example, produces a tone that is more fitting for a funeral. The sense of love and purity exuded by these two colors combines to create a message of love and compassion.
Be sensitive to the family's wishes, too. If they communicate a preference in scale or delivery, be sure to honor it. Remember that your goal is to be supportive — not overbearing.
---
Think About the Service's Tone or Religious Content
When you're determining how to choose the best funeral flowers, you'll want to consider the tone of the service. You also should keep in mind the family's cultural or religious practices. These factors can help you find the right flowers to convey your sympathy.
For religious ceremonies, it is beneficial to consider the historical significance of flowers as they relate to the family's faith tradition. Not all faith traditions use flowers in their services, though most do. Flowers are life-giving and offer a sensory experience that helps to honor the deceased. A Christian ceremony may make white roses an especially effective choice for a funeral flower. A rose can stand as a symbol for Mary, as some believe that roses were discovered at the location of her Assumption. Roses represent purity, and in the context of a Christian ceremony may hold even more significance.
If the deceased has connections to East Asian cultures, such as those in Japan or China, you may wish to go with chrysanthemums. Chrysanthemums, or mums, have strong ties to Japan and China as popular flowers dating back several centuries. Mums are associated with various monarchies and cultural celebrations, making them an appropriate way to honor the deceased.
In Japan, chrysanthemums suggest purity and innocence, as well as perfection. White mums are a fixture at Japanese funerals. And their slightly spicy fragrance makes them a wonderful form of remembrance.
---
A Note Adds a Personal Touch to a Flower Arrangement
To elevate the meaning of your flower arrangement, add a personal note. Don't underestimate the power of words. Even a few thoughtful sentences can be an anchor for someone experiencing immense grief.
A sympathy card should use a tone that is sensitive to the subject matter. In other words, don't try to offer a solution to a tragic or unexpected death. When in doubt, keep the message short yet personal. You can begin by expressing your sorrow over the loss of the individual. If you have a personal anecdote in mind that would be heartwarming to think of, it's a welcome addition to the note — but don't feel like you need to go there if it feels forced. Avoid invoking too much of your personal experience, even if you have dealt with a similar type of loss before.
Feel free to extend an offer of help. You can suggest chatting at some point or offer to purchase groceries. Even a small gesture of assistance is welcome, though you may not get a response right away.
Finally, if you have a specific reason for choosing the flowers, you may mention this. Perhaps the deceased was an avid gardener and loved a particular type of flower in your arrangement. Whenever you can take a moment to honor this person's memory, do so.
---
Choose Funeral Flowers Delivery for an Efficient and Professional Process
To express sympathy, a beautiful and cohesive arrangement can make all the difference. You could attempt to assemble a grouping of flowers for a funeral yourself, but it's much easier to entrust professional florists to do the job well. You want to choose flowers that have been handpicked and arranged by a skilled florist. Florists are well-versed in the significance of certain types of flowers. And their knowledge of design and color theory allows them to pull together a grouping of colors and styles that will add visual beauty to any setting.
Though it may feel like you're paying a lot for a professional arrangement, remember that an arrangement of flowers is a work of art. Know that florists commit a lot of time and materials to perfecting your bouquet, vase, or spray of flowers. Given that funerals can happen quickly, you want to make sure that the funeral flowers delivery you choose is fast and efficient. After all, part of the flowers' meaning is tied to their freshness and vibrancy. The last thing you want is for wilted flowers to arrive at someone's home.
The good news is that professional florists understand how to treat and nurture flowers so that they will look fresh in your arrangement. Florists may grow the flowers themselves, but they also make work with local farmers or even order specialty flowers from abroad.
When you're trying to convey the right level of sympathy and consideration, you're much better off going with professional florists. Send funeral flowers online for a simple and gracious solution during what is a very difficult time. You'll be able to feel good about the quality of what you're sending and know that you're helping independent florists continue to practice a much-needed craft.
---
Send Funeral Flowers to Honor Someone's Memory
Grieving the loss of a loved one is never easy. Whether you're a close personal friend or family member of the deceased or an acquaintance, dealing with loss takes time and understanding. You can help honor your loved one's memory and offer an expression of hope when you send funeral flowers.
When you order funeral flowers online, you can trust that skilled florists are using only the highest-quality flowers to craft an expression of love. To find the best funeral flowers delivery to pay your respects,
Contact us, and we can help.
---