How listing your shop will benefit you from Google point of view?
Google is becoming a key component of how consumers discover services and goods in their area as people rely more heavily on it to get answers to their most pressing issues. People seeking flowers online are in the same boat. Small florists must register their business on a floral marketplace so that sales might come from all over the world, not just from the area where their flower store is located. And Snapblooms can assist small florists in establishing their name in the floral market. Are you trying to figure out how that might be of assistance?
Establish your brand in the floral market
SnapBlooms is one of the fastest-growing online flower markets, as made evident by the fact that our traffic skyrocketed within a year. Florists can use SnapBlooms to help them develop their own brand. When you list on SnapBlooms, our florist pages will function as business listings, creating high-quality backlinks that aid local SEO. This benefits flower shops not only in terms of revenue, but also in terms of brand recognition.
Take advantage of our marketing team's expertise
Our expert marketing team is currently working to improve SnapBlooms to make it more Google and user friendly. This allows them to add that extra value to your flower business, boosting keyword rankings, visibility, traffic, and online orders. SnapBlooms listings assist people in finding nearby businesses and can have an impact on a company's traffic earning potential. Businesses can potentially improve their search engine rankings and gain more consumers by adding their flower shops to SnapBlooms. Your SnapBlooms page may also help you improve your whole online visibility, from how well your business ranks in search engines to how easy people can find your location and contact information.
Get well-optimised flower shop page
On SnapBlooms, we offer well-optimised flower shop pages that assist florists in increasing local business relevancy. Optimising your page will not only help clients find you and enhance your search engine results, but it will also help you portray a clear image of what your business is all about and what it has to offer. When you choose SnapBlooms, your customers will have that added benefit to submit reviews on our platform. This contributes to developing trust in the local market.
Get content marketing for free
In addition, we also handle SnapBlooms' content marketing, and if your Flower business is listed on SnapBlooms, we'll include it in our content. We will write SnapBlooms flower store reviews and provide a direct link to the original website in our blogs. This will again provide high-quality backlink as well as a positive review.
Boost your visibility
To advertise your flower shop page on SnapBlooms, we will get backlinks from numerous websites, social networking sites, and other platforms. This will increase the worth of your original website and help you enhance your search engine results. Link equity is a ranking factor in search engines that is based on the premise that particular links pass value and authority from one website to another. Many factors contribute to this value, such as the authority of the linking website, the topical relevance, the HTTP status, and so on.
Boast your ranking
Being listed on Yelp or online Directories is a known method to get favourable ranking for your Google Business listing. How about getting listed on a marketplace that is built exclusively for florists? It will of course carry a lot of backlink juice and trustworthiness as we build and deepen SnapBlooms' presence. As Snapblooms deepens its web reach, Google will trust us more and work as per Google's NAP listing which will help increase florist's local listing ranking and the organic ranking.
In simpler terms, a local listing (or local citation) refers to the mention of the name, address, phone number, or website for a local business. The listings may appear on local directories, on websites or blogs, on social media, or within apps.


How does link equity work?

Link equity can be passed both internally and externally. When analysing whether a link will pass equity, there are a few factors to take into account:
What is the purpose of the link?
If you link to a page about car repair from an article about flowers, it's likely that the link isn't relevant - and Google will know. Relevant Links are critical for establishing authority or adding value.
Does the linking site have authority?
Those from established, trusted sites tend to convey more link equity than links from new, inexperienced sites.

Whenever a page uses the robots.txt file to block crawlers, the crawler is informed to ignore it, and the link won't be passed. SnapBlooms provide crawlable links to your flower shop.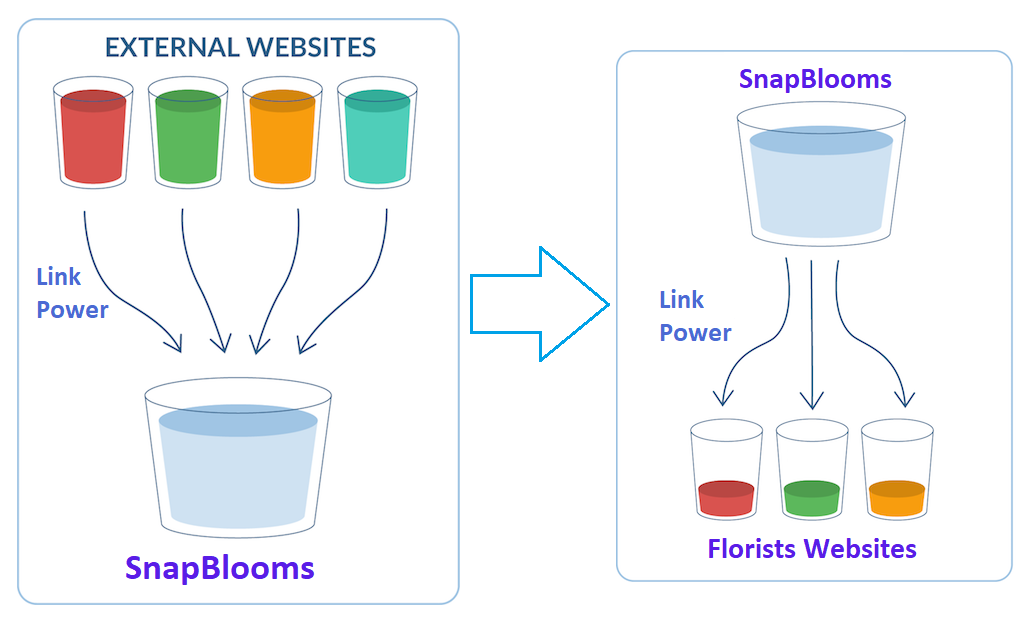 Replace the competitors
For florists, Snapblooms serves as a catch-all for "non-near me" searches. Our intention is to provide an avenue for customers to check us out who search for flowers without a specific location in mind. When shopping for flowers, people commonly do searches such as ordering flowers online, sending flowers, sending birthday flowers, and so on. Big order gathering websites take millions of these clicks daily and pass them onto florists. Within a short one year, Snapblooms is already ranking in those top keywords which is a testament to our amazing SEO team's capability. Imagine a day when we can direct millions of those searches to real florists and beat the order gatherers at their own game.
SnapBlooms' Challenge to florists
Any florist who is not willing to trust us regarding Snapblooms and accuse us of being order gatherers, Hana Software Inc.- Our parent company offers an open transparent opportunity. Florists can contact us and enter into a legally binding contract with us. This guarantees that the Hana POS or Snapblooms ( sister companies) platform will never be used for profit-making on orders or order gathering activities, and we are willing to incorporate punitive measures in the contract if Hana POS ever breaches it.
You're absolutely right if you believe SnapBlooms is the perfect choice for your floral business. You can put your trust in us and rest assured that we will not do actions solely for the purpose of profit. We guarantee that listing your flower shop on SnapBlooms will help you grow your business year after year, strengthen your brand, and ensure that you don't just have busy seasons, but a busy year.